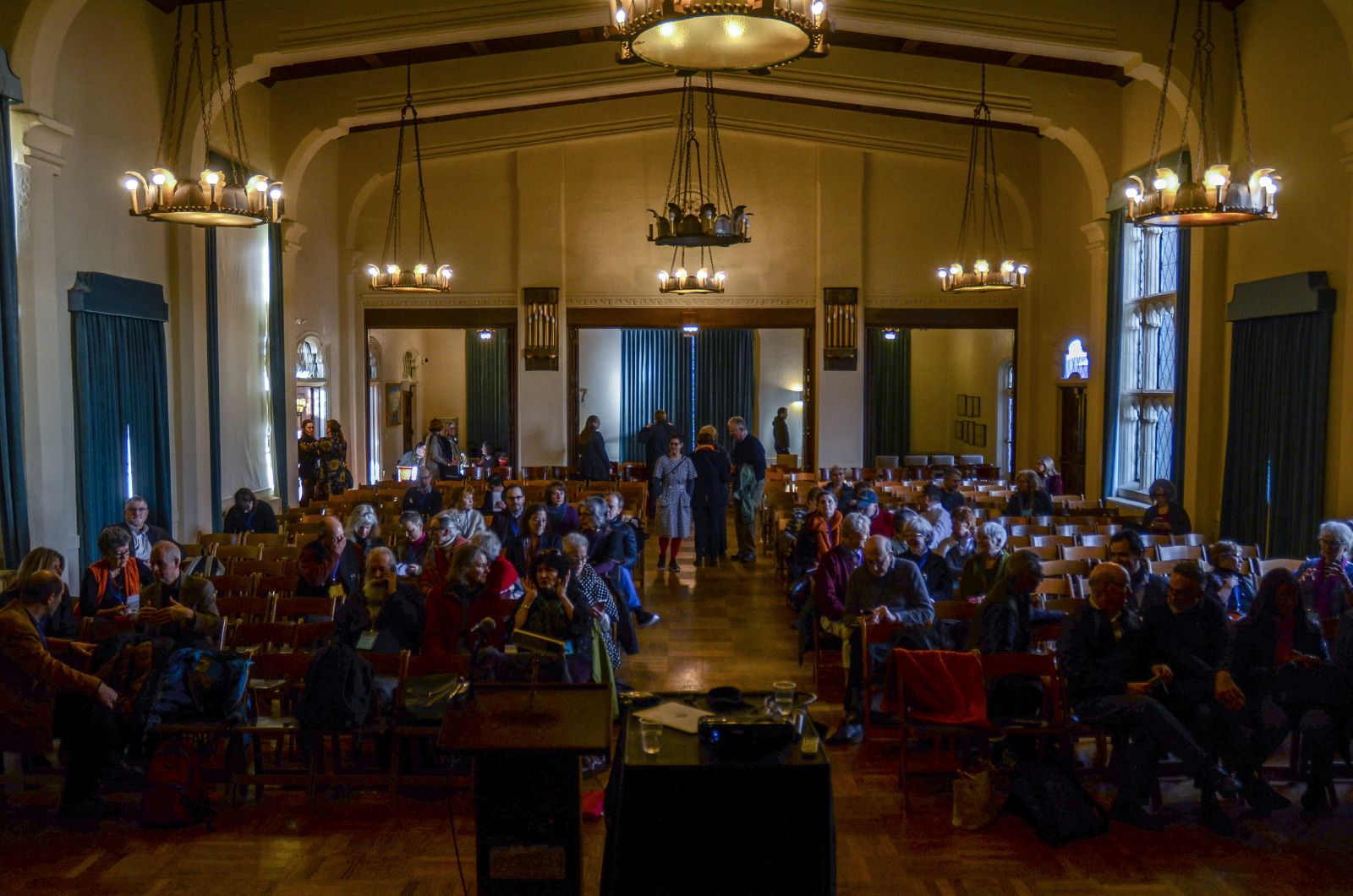 CODEX VII Symposium was held at the beautiful Historic Landmark Julia Morgan building, the Berkeley City Club. Tickets to the event were completely sold out; attendees enjoyed talks from CODEX Nordica affiliates Pist Protta of Denmark, Tatjana Bergelt of Finland, and Thomas Millroth of Sweden. We also heard from researcher David Paton of South Africa, artist and sculptor Till Verclas of Germany, book artist Victoria Bean of ARC in London, and gallerist/curator Susanne Padberg of Vienna.
Links to audio recordings of talks can be found next to their titles below.
Keynote Speakers
Thomas Milroth — Thomas Breitenstein Millroth, Malmö, Ph. D., art historian writer, critic, curator, former director of Ystad Art Museum.
Swe Den (MP3)
An essay on the interaction between Danish and Swedish artists in Denmark and Copenhagen leading to an early outburst of artists' books and printed matter in the 40s - beginning already in the 30's. And continuing today when the Danish capital is one of the most interesting places for artists' books only 30 minutes away from Malmö. Many young Danish artists have their education in Malmö, Konsthögkola, Malmö Art Academy. Millroth's speech is about today's scene in South Sweden and Denmark as well as the story of the early thoughts about an alternative space for art. Some names: CO Hultén, Asger Jorn, CH Pedersen, Henrik Have, Galerie St Petri in Lund, Ditte Ejlerskov, Marie Raffn, Anna Nordquist Anderson, Wedgepress & Cheese... Just to mention a few.
Susanne Padberg — Padberg studied literary criticism, art history and cultural studies in Tübingen (Germany) and Vienna (Austria). She has been the owner of Galerie DRUCK & BUCH since 1994 – first in Tübingen and now in Vienna. The gallery, next door to the Freud Museum in Vienna, specializes in international contemporary book art and puts on four to six shows a year. Padberg is regularly engaged as a collection consultant and exhibition curator, most recently for the travelling exhibition "Freud on the Couch, Psyche in the Book," which opened in 2018 at the Center for Book Arts in New York City, the Minnesota Center for Book Arts in Minneapolis, and the San Francisco Center for the Book. She also gives lectures, does guest teaching, and writes catalog contributions.
Here and There is Everywhere (MP3)
As a travelling book art gallerist and curator in both Europe and the United States, I have encountered a number of differences in the book art world here and there. Indeed, whenever one makes a generalization, the opposite often turns out to be true. Despite that, I would like to address three aspects here.
Collecting itself. While in Europe, collections concentrate on documentation and preservation, it seems that in the United States the focus is more on teaching and dissemination. This causes different interactions with the bookart-market and the production.
Mission / contents / aesthetics. At first glance, it seems that in US book art, a "mission" or a political aspect is dominant, whereas in Western Europe there is more concern with aesthetics. Showing a few examples, I would like to explain how the book in combination of mission and aesthetics can function as a monument.
The book's form. It seems to be a special quality that European/German book artists, in particular, have a distinct way of reflecting on the form of the book.
Presentations by Artists, Presses, and Researchers
Åse Eg Jørgensen — Danish artist and graphic designer based in Copenhagen. For 36 years co-editor of Pist Protta (with Jesper Fabricius and Jesper Rasmussen). Ongoing series of Artist's booklets are the Kompendium series, latest issue no. 35: Natskygge / Nightshade. Kompendium no. 26: Text and Textile was nominated for the French Artist's Book prize Prix Bob Calle 2017. Graduated from the Danish Design School 1989. Member of Kunstnersamfundet. Grants from the Danish Art Council 2004-2006. Residencies in Iceland (Skaftfell, Seydisfjordur 2013) and Rome (2016). Grant from Albertsen Fonden 2018. Owner of Åse Eg Aps.
We always try to keep it simple (MP3)
Pist Protta is a journal like no other. Firstly because it is rare that a Danish journal dedicated to contemporary art survives for so many years – Pist Protta is the oldest existing art journal in Denmark. Secondly, because it does not look like any other art journal. From the very beginning, the principal rule the editors have adhered to is that no issue is to be like any previous one in either format or content. According to the editors' motto that Pist Protta is not only to be about art, but to be art, the individual issues can be seen as a hybrid between a magazine and an artist's book. During more than 35 years of perseverance, Pist Protta has invited and collaborated with hundreds of artists, writers, graphic designers and art historians, who the journal has given the opportunity to unfold their ideas in print. This lecture will leaf through a number of issues and tell the particular story about how each one came to be, who participated, what is the idea, what problems did we face, why does it look like this.
Tatjana Bergelt — Tatjana Bergelt was born in East Berlin in 1966. Educated in Germany, Estonia, France, and Spain, she received one MFA in 1990 from the Hochschule für Kunst und Design Burg Giebichenstein Halle and another MFA from the École Nationale Supérièure des Beaux-Arts á Paris. Being multi-lingual and coming from German-Russian-Jewish culture she considers herself a collage, a product of various cultural elements that intersect and overlap in numerous ways. In 1998, she settled in Helsinki, Finland, where she still works and lives with her family. She has actively promoted the Finish artists' books and organized numerous exhibitions abroad. Her work belongs to many permanent collections, most notably the New York Public Library, New York; the Klingspor Museum, Offenbach, Germany; Centre Georges Pompidou, Paris, France and the National Library of Finland, Helsinki.
From Finland barefoot in snow (MP3)
A cassette with two books, edition of 4+3 a/p, Northern Sami / Finnish/ German languages, 2015
Focusing on the existential poetry by Sami activist Nils Aslak Valkeapää, yet deeply differing from Middle European existentialism, this artists' book project respects the very core of Nomad culture of the indigenous people of Europe in its visual form. Sami people have been relatively isolated in the very Northern part of Finland, Sweden, Norway and Russia. They speak 10 different languages but yet still must fight for their rights of land ownership and identity, which is analogous perhaps to the situation of Native Americans in the USA.
David Paton — David Paton is currently Senior Lecture and past head of the Department (2004-2009) of Visual Art at the University of Johannesburg, South Africa, where he teaches Drawing and Studio Practice at undergraduate level. He also supervises Postgraduate students' studies, four of whom have received the prestigious Chancellor's Medal for Meritorious Postgraduate Study. He received his MAFA at the University of the Witwatersrand, Johannesburg, in 2001 with a dissertation titles South African Artists' Books and Book-objects since 1960. David has curated numerous exhibitions of the book arts in South Africa and headed the curatorial team which hosted the Booknesses exhibitions and colloquium which showcased both the internationally renowned Jack Ginsberg Collection of Artists' Books as well as South African book arts, at the University of Johannesburg in 2017. David has authored catalogues of exhibitions of artists' books and published articles on the book arts in local and international journals. He hosts the award-winning website Artists Books in South Africa, is twice the recipient of the Ampersand Foundation Fellowship to New York (1999 & 2017) and is the father of two sons.
The Jack Ginsberg Collection of Artists' Books: Highlights from 25 years of working with the collection in South Africa (MP3)
My paper examines important curatorial projects and selected seminal moments from Jack Ginsberg's extensive Johannesburg-based collection of artists' books and archive of books on artists' books. The curatorial projects are bookended by the first exhibition of artists' books held in South Africa at the Johannesburg Art Gallery in 1996 and the Booknesses exhibition held at the University of Johannesburg in 2017. The paper also explores the genesis of the collection from its early years to the launch of the Jack Ginsberg Center for Book Art at the University of the Witwatersrand Art Museum, Johannesburg, in early 2019, where the research potential of the archive on artists books, as well as the artists' books themselves, will make a profound investment in book arts scholarship in local, pan African and international contexts. The paper highlights select works from the collection as well as the website www.theartistsbook.org.za which was awarded South Africa's National Institute for Humanities and Social Sciences Digital Humanities Prize in 2018.
Till Verclas — While still an art student in Hamburg in 1979, Verclas founded his own printmaking studio, going on to work with renowned German and American artists such as Baselitz and Twombly. Verclas works not only in printmaking, but also in large-scale sculpture in bronze, wood, and steel. His artist's books are often made as a reaction to the sculptural installations. Verclas's work can be found in public collections across Germany and the United States. In 1991 he founded his imprint, UN ANNO UN LIBRO. In 2008 he received the German Villa Massimo in Rome fellowship. Till established a new studio, workshop, showroom, and archive in 2015.
Black Truffles, Vibrant Colours Set Between Black and White (MP3)
There is a direct line from my steel sculptures to my prints, drawings and artist's books. The colour of my artwork is black and white - and all the thousands of grey tones in between. Presenting examples of sculptures and drawings I will try to show that every "section" of my work collaborates with the whole issue. In all of my sections the colours black and white inflame a firework of vibrant colours.
Victoria Bean — Victoria Bean is a London based artist, writer, and visual poet. A graduate of the Royal College of Art and co-founder of Arc Editions with Sam Winston and Karen Bleitz. She is the co- Editor of The New Concrete, an anthology of visual and concrete poetry in the 21st Century that features a hundred artists and writers who, like her, work across a variety of disciplines like art, poetry, graphics and literature.
FLAG (MP3)
Flag is a body of work that takes up where Check left off: Check being a portfolio of typewriter prints that featured fifty writers, from Oscar Wilde to Joan Didion, and the checks they wore, that created a visual democracy of time and talent. FLAG, her latest artists book project, takes one of the writers featured in this past work, and explores the writer's work and times through colour, cloth and typewriter prints.