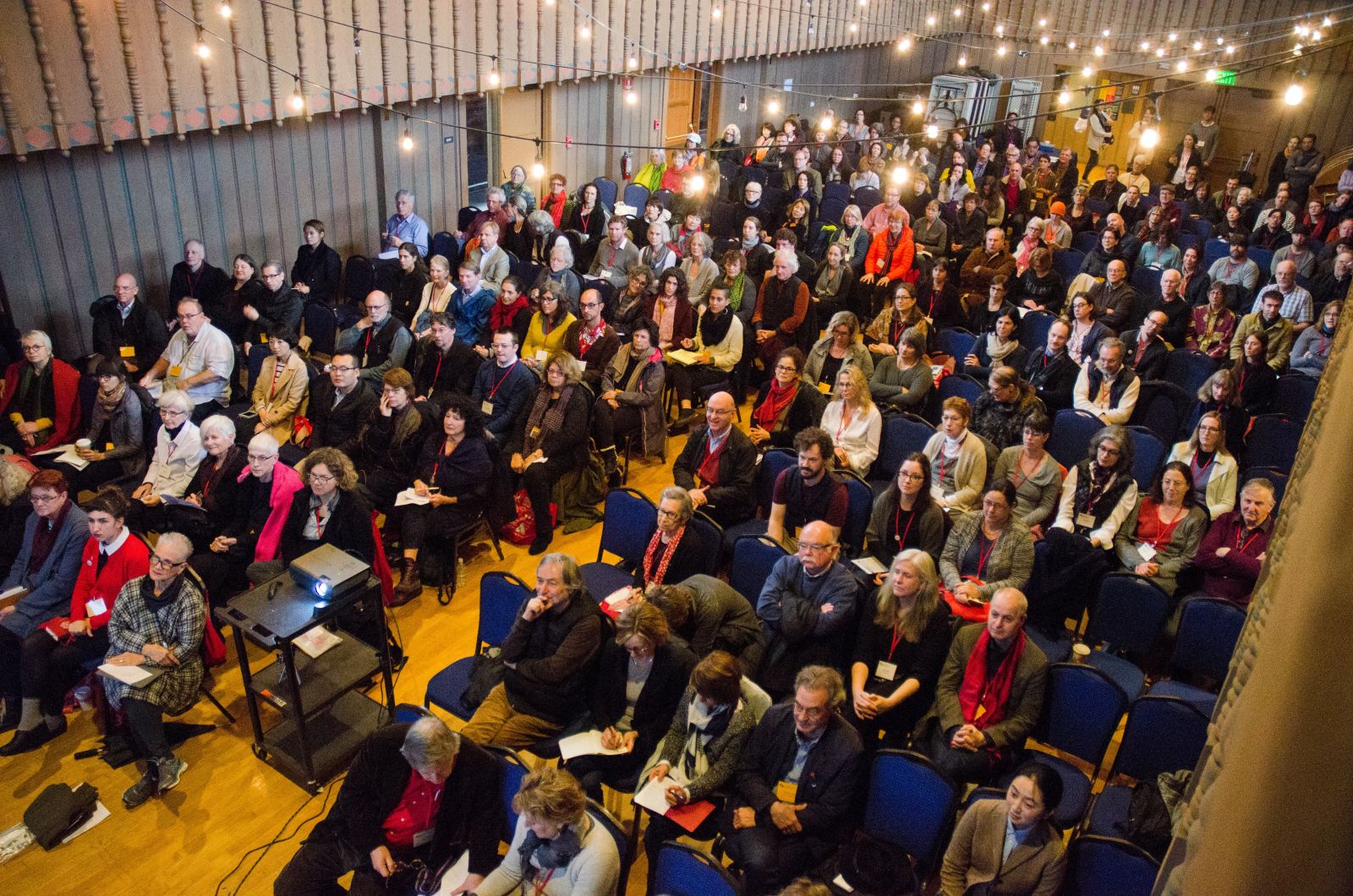 2017 Symposium
Held at the Anna Head Alumnae Hall, Berkeley, CA. More than 300 people attended the lectures this year; our Keynote Speakers focused on Book Arts in China.
Welcome to the Symposium by Peter Koch; Information on Australian counterparts by Tim Mosely (MP3)
Keynote Speakers
Introduction to Lu Jingren by Amanda Degener of Cave Paper in Minneapolis, Minnesota (MP3)
Lu Jingren — One of China's most influential book designers; founder of Jingren Art Design Studio; professor at Academy of Arts and Design at Tsinghua University; Beijing, China
Lecture: (MP3)
Lu Jingren's lecture is about traditional Book Art of China, the effect of the Western book design at the beginning of the 20th century and the changes in book design concepts and working condition of book designers in contemporary China. He will show how the new book design movement is growing in the digital era. Professor Lu Jingren's work is a balance between intellectualism, tradition, and modern visual expression. He has an in-depth grasp of visual information and his work achieves an Asian style without mimicking the past.
Introduction to Marshall Weber by Peter Koch and Gao Gao of the CAFAM Art Museum in Beijing, China (MP3)
Marshall Weber — Artist and curator, co-founder of Booklyn; co-curator of Diamond Leaves Exhibition in Beijing, China; Brooklyn, New York
Lecture: Reflections on Diamond Leaves: artists' books in China now (MP3)
Presentations by Artists & Presses
Introduction to Johannes Strugalla by Peter Koch (MP3)
Johannes Strugalla — Visual and book artist, co-founder of despalles éditions; Paris, France and Mainz, Germany
Lecture: Between Drawing and Printing (MP3)
Introduction to Betty Bright by Peter Koch (MP3)
Dr. Betty Bright — Writer, curator, and historian; founding member of Minnesota Center for Book Arts; Minneapolis, Minnesota
Lecture: Lines of Force: the Hand, the Book, & the Body Electric (MP3)
As 21st century voyageurs we must navigate a torrent of data requiring constant editing and deletion to avoid our digital submersion and disappearance. New technologies may deliver greater efficiencies, but the human skills and intellect that they replace actually worsen our dislocation from direct experience. This is not news, and we all know that books have never been so needed. We'll consider a few recent works that nurture mind and body while also reminding us of what we share in common, in the midst of our global screen culture.
Introduction to Gwen Harrison by Peter Koch (MP3)
Gwen Harrison — Book artist and printer; Impediment Press & Wandringbark Studios (with collaborator Sue Anderson); Sydney, Australia
Lecture: Netting the Small Fry (MP3)
Since 2006, when our collaboration commenced, an invisible thread has drawn us along a network of islands. As colonial sites these islands were chosen for their remoteness – to exile. Tales of convicts, emigrants, aborigines, refugees, and their children all converged into a devastating history of disposal, neglect and secrecy. Our book from 2011, "Dancing Over Dark Waters", focused on the colonial prison and the treatment of convicts on Cockatoo Island layered with questions about asylum seekers today. It was while we were on the island that we became aware that girls from as young as six to sixteen years of age were placed there after the convicts had been removed due to public agitation about inhumane conditions in the prison. With the prison buildings vacated a startling decision by the Colonial Secretary deemed Cockatoo Island's prison to be suitable as an Industrial School and Reformatory for girls. His expediency was as much to disappear these girls of 'the dangerous and perishing class', i.e. the poor: as much as it was to 'reform' them – an echo of the callous impulse of colonialism in Australia. The girls endured this prison until the results of a Royal Commission Inquiry eventually caused their removal in 1888 to the convict-era Female Factory Precinct at Parramatta. "Howl for a Black Cockatoo", completed in 2015, attempts to tell the girls story out of respect for their part in Australia's history. Some of our research was at Jessie Street National Women's Library in Sydney where the Library's Committee invited us to meet Bonney Djuric, the co-founder of Parragirls. We were subsequently invited by Bonney to participate in "The Memory Project" by teaching processes and helping to make artists' books and prints for a new exhibition "Living Traces" to be held in September 2016. We became part of the collaborative effort that involved artists, historians, scholars and women who survived the Parramatta Girls Home and Training School in the 1950's to mid 1970's. Our invisible thread took us from being theoretical observers to being active participants with survivors of just one of the institutions where systemic abuse damaged thousands upon thousands of young lives caught up in its web. The Parramatta Female Factory Precinct Memory Project, led by Australian artists Lily Hibberd, and Bonney Djuric, is globally recognized as the first Australian member of the 200-strong International Coalition of Sites of Conscience. We look forward to discussing the project at Codex in 2017.
Introduction to Gaylord Schanilec by Peter Koch (MP3)
Gaylord Schanilec — Book artist and founder of Midnight Paper Sales; Minneapolis, Minnesota
Lecture: My Mighty Journey (MP3)
Gaylord Schanilec will talk about a book induced by the 12,000-year-long journey of Saint Anthony Falls, the only natural waterfall on the Mississippi River, from Saint Paul, Minnesota, to Minneapolis - a distance all of ten miles.
Questions posed to Gwen Harrison and Gaylord Schanilec (MP3)
Closing Remarks by Susan Filter (MP3)